ONE CARE is an essential service in our community and are responding to community needs
ONE CARE has been serving our communities in Huron & Perth for over 30 years to ensure that our seniors get the support and care that they need to remain home safely.  During this time of uncertainty our organization continues to be committed to this important cause and is making every effort to ensure that critical services continue to be delivered. Our dedicated staff and volunteers remain front and centre in our communities providing essential care to those in need.
The Covid-19 pandemic is a rapidly evolving situation. Outlined below you can find how ONE CARE is taking steps to ensure the safety of both the community and our clients. If you or a loved one are an active client or are seeking services, please refer to this page for the most up to date information regarding potential service disruptions.
ONE CARE continues to support high need seniors in our communities
We are continuing to support our most vulnerable, frail and socially isolated clients. This is a time when they need us the most. We also have a responsibility to support all public health efforts to reduce the spread of COVID-19 in the communities. For more information please read our press release PRESS RELEASE 03 20 2020 Covid 19
Programs & Services 
ONE CARE continues to work to provide essential services in our community. Our community is important to us and we are listening to the needs of our community. We are responding to continuing needs and addressing new emerging needs for our clients.
While ONE CARE offices are closed to the public, our staff are still working to meet your needs. We are responding to calls, emails and we continue to provide some services. We want to ensure that you are able to you receive information and book essential services.
Services being offered – Meals on Wheels \ Grocery Delivery \ In Home Care \ Home at Last \ In Home Respite
ONE CARE is pleased to announce our new grocery delivery service for seniors during this time. Click here for more details.
As well, our Meals on Wheels program is seeing an increase in services as it is helping seniors and caregivers to ensure that people are getting good, nutritious meals. Click here for more details.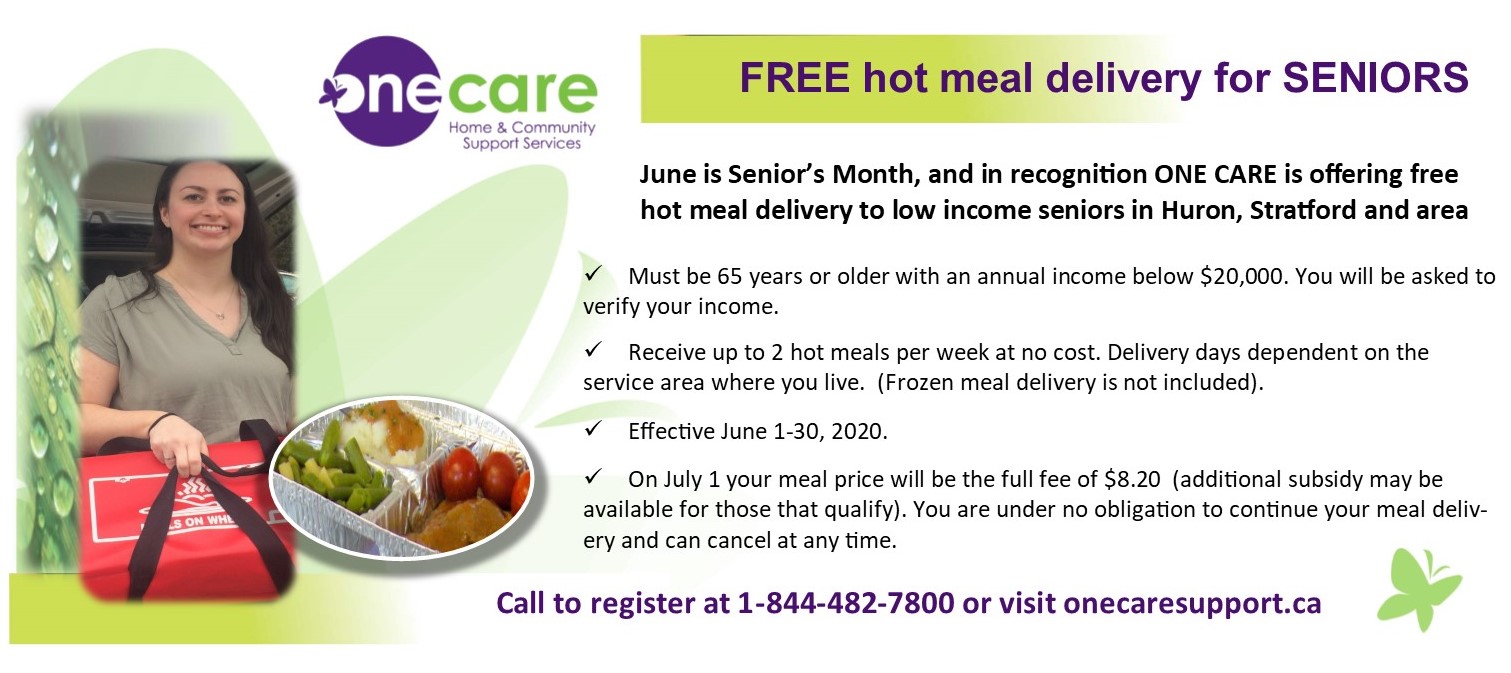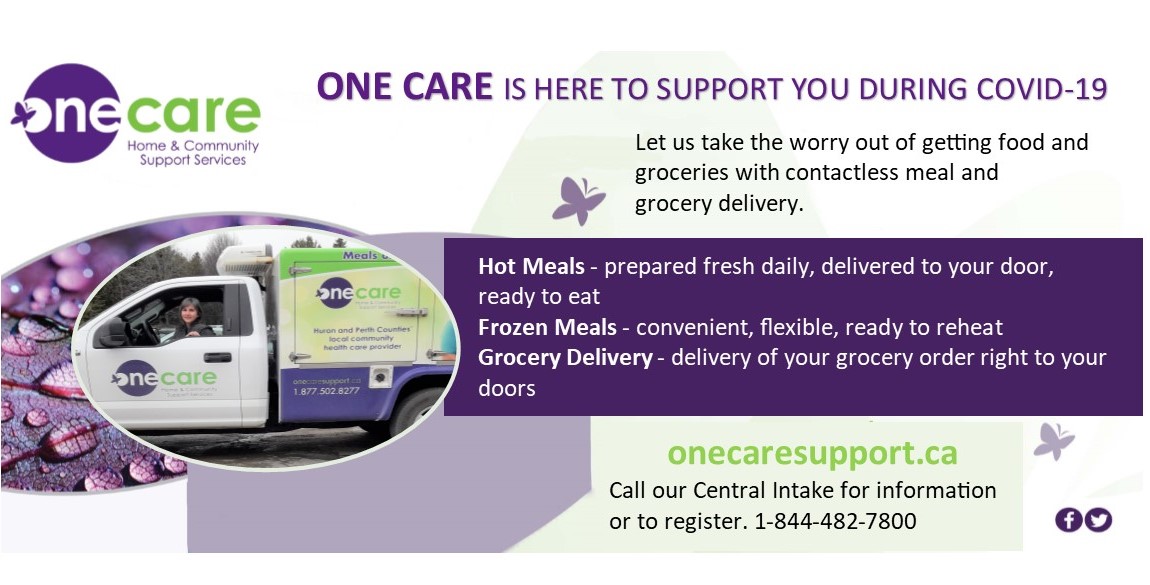 Other programs are operating with modifications to increase protection of our clients and staff.
Services offered with modifications – Transportation  \ Home Help \ Lifeline \  Friendly Visiting
Other programs, such as Adult Day Programs, Dining for Seniors, Exercise and Wellness, Foot Care Clinics, Bathing programs are on hold.
If you have particular needs please let us know. We are here to help.   If you require information about our services call 1-844-482-7800
ONE CARE RESPONSE TO COVID-19
The situation is rapidly changing and it is imperative that we adjust our response accordingly.  ONE CARE is connected to updates from provincial authorities and associations and continues to monitor the situation as it evolves so that we can respond appropriately to keep our clients, staff and volunteers safe.
The safety of our clients and their families as well as our valued staff and volunteers is the highest priority for us at ONE CARE.  Our services are essential to those in need and we must continue to find ways to deliver the care our community needs while reducing the risk and slowing the spread. Measures have been put in place to ensure the safety of all involved.
COVID-19 specific screening has been in place since January and continues to evolve with the situation
The Emergency Response Team (ERT) was implemented in accordance with our Pandemic Plan
Daily ERT meetings are scheduled during which decisions around response are made as the situation continues to evolve
Increased meetings of the Joint Health and Safety Committee are being held
All staff and volunteers who have traveled or exhibit any known symptom are being asked to self-isolate as required
We continue to review services and modify or suspend programs as needed
We continue to in our work to support our clients and our community
For more information please click here ONE CARE Response to Covid-19
Thank you for your support as we work together to keep our community safe.
Helpful Links:
Caregiver Support during to the pandemic
https://www.cssontario.ca/covid-19
https://www.canada.ca/en/public-health/services/diseases/coronavirus-disease-covid-19.ht
Teens Launch Hotline for Isolated Seniors to Listen to Pre-Recorded Jokes, Stories, and Messages of Hope
Assisted Devices Program information during COVID-19
ADP Information for Clients
Philips Lifeline supports and resources for clients
Lifeline Patient Resources_ENG