COVID-19 & ONE CARE
JANUARY 2022 UPDATE
ONE CARE continues to work hard to provide essential services in our community. Our community is important to us and we are listening so that we can respond to the best of our ability as things change. We are finding new ways of delivering services and supporting people across our region.
While ONE CARE offices are closed to the public, our staff are still working and most programs are operating. We have developed new ways of working and we have learned many ways of doing things, so, in some ways this changing and challenging time has provided benefits.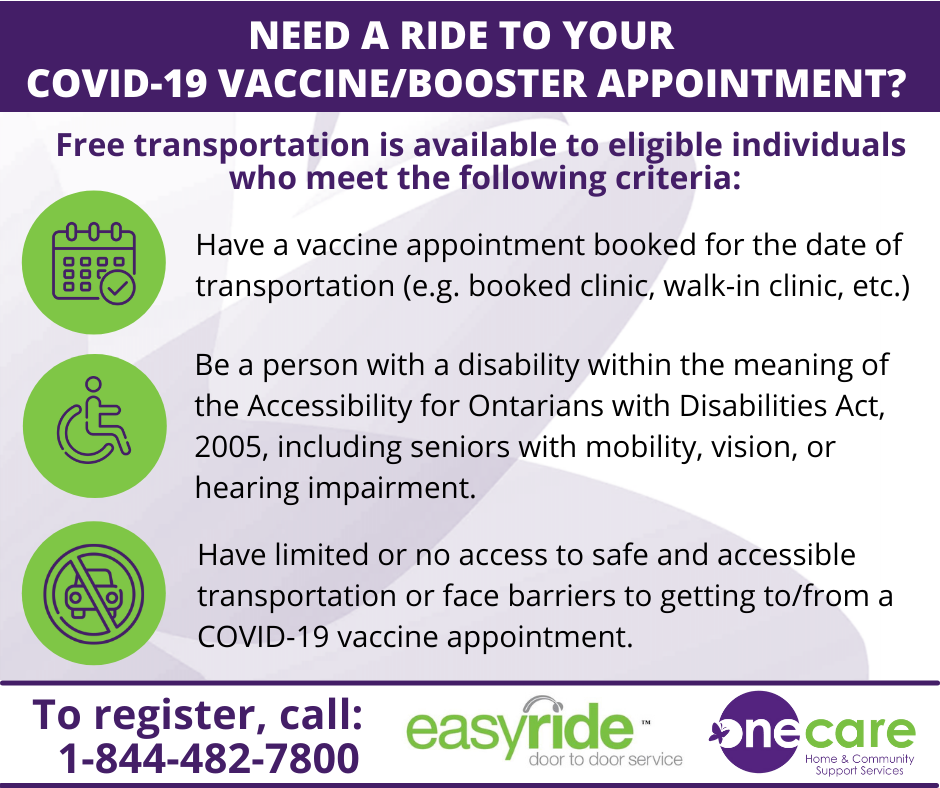 Programs continuing with additional precautions
Assisted Living | Lifeline | Meals on Wheels | Home Care | Home Help | Home at Last | In Home Respite | Telephone Reassurance
Some programs have never stopped and are being delivered as they were previously but with an increase in personal protective equipment (PPE) and infection prevention and control (IPAC) procedures. ONE CARE's PSW care In-home and Assisted Living have continued as usual although the LHIN did put some clients of Home Care services on hold in the early stages. Staff shortages have had an impact, especially for Home Help. Home At Last has had an increase in helping people to move safely home after hospital stays. Meals on Wheels is being delivered through contactless delivery and is experiencing an increase in demand.
Programs with more significant modifications
Transportation | Friendly Visiting | Adult Day Program | Dining | Overnight Respite | Exercise and Wellness | Care Planning | Social Work | Foot Care Clinics
Several programs are operating with modifications to increase protection of our clients and staff. Many programs are being offered virtually or over the phone, or in a different way. For example, Dining for Seniors is now Dining To Go which delivers a meal and a social time on Zoom.
Adult Day Programs (ADP) are being offered virtually as well as on site with smaller groups of clients. We continue to follow up with weekly check-in calls for clients who have chosen not to return to ADP due to COVID-19 and are sending monthly activity packages to clients needing additional support, and to those who are on a waitlist for services to ensure their wellbeing. We are also offering overnight respite three nights each week for four clients each night for all of our clients throughout Huron County to provide a much needed respite break for our caregivers.
Exercise programs are being offered virtually and Friendly Visiting is being done by telephone visits. Transportation services are limited to medical rides and essential programs like our Adult Day Programs. We have added plexi-glass barriers and both volunteers and ONE CARE drivers follow strict infection control and sanitization guidelines for every drive. Social work has continued but is being offered by phone in many cases. Foot Care is currently running clinics in Stratford.
Programs on hold
Blood Pressure Clinics  This program remains on hold for the foreseeable future.
As we navigate this pandemic, we will continue to adapt and adjust how our programs operate. For the most up to date program information call 1-877-502-8277.
For more information on COVID-19 and the COVID-19 Vaccine, please visit Huron Perth Public Health's website at https://www.hpph.ca/en/index.aspx#