Help Seniors and People with Health Challenges
We're flexible! You can be too! Volunteer as much, or as little, as you wish!
Take an hour of your day to deliver Meals on Wheels! An hour of your time weekly or monthly spent delivering hot, delicious and nutritious Meals on Wheels is a very rewarding activity and supports our elderly neighbours to live at home
For those of you who enjoy visiting –  we are looking for volunteers to make Telephone Reassurance Calls. Calls are made from the comfort of your own home at a set time. Volunteer once, twice or three times a month – it's up to you!
If you enjoy the open road why not become a transportation volunteer? Volunteers are needed to help our elderly clients to get out and about – from grocery shopping and doing errands around town to medical appointments out of town. If you are not available on a certain day don't worry, we'll call again!
Sometimes a few hours of assistance makes all the difference
An aging population and more people living with chronic conditions means more need for the support and specialized services ONE CARE delivers. We play a vital role in the health and quality of life for clients and provide peace of mind for caregivers.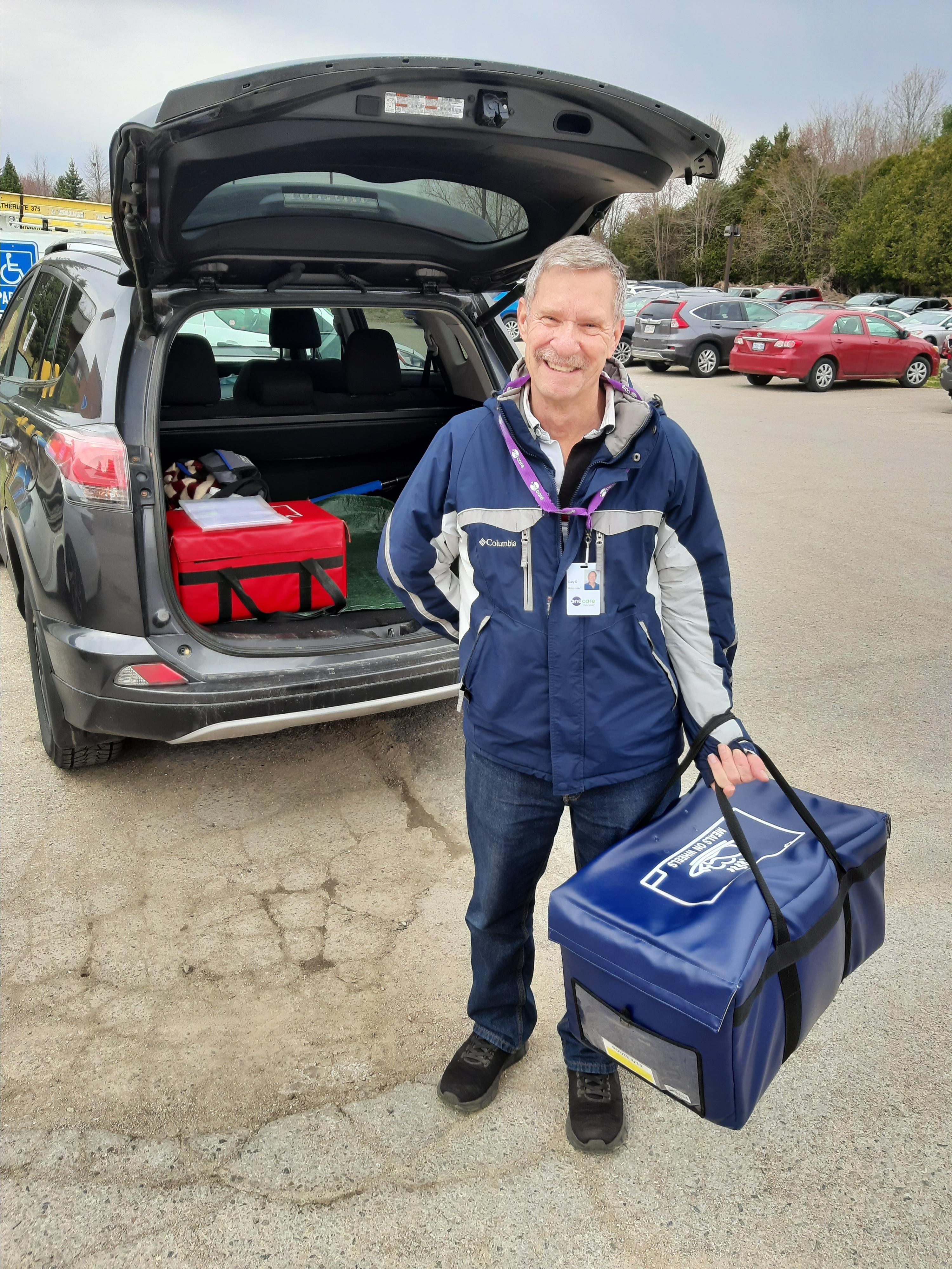 We welcome new volunteers. We have volunteer positions available throughout Huron County and in Stratford.
A donation of your time will enrich the lives of our clients and provide peace of mind for caregivers. Volunteers receive the full support they need for the important roles they provide.
Our Volunteer Application form is available here for your convenience. Print this form, complete the information and submit it to by email to volunteering@onecaresupport.ca
Or call 1-877-502-8277 and ask to speak with our volunteer coordinator. Our volunteer coordinator will meet with you to complete the application process and discuss your interests at length. 
Volunteer Positions at a Glance
With numerous volunteer positions available we have something for everyone. Here are some examples:
| Volunteer Position | Description | Time Commitment |
| --- | --- | --- |
| Meals on Wheels Driver | Uses car to collect and deliver meals to clients. Reports concerns to staff. | At least 2 hrs once/month. The schedule is flexible and you can deliver as often as your availability permits. You can also request certain delivery days, i.e. every second Monday. |
| Meals on Wheels Runner | Assists driver with the delivery of meals to clients. | Same as above. |
| Volunteer Driver | Provides transportation for clients locally and out of town for medical appointments, shopping, errands and social activities. Volunteer drivers must be between the ages of 18 and 80. | On-call basis. Trips in town average 1 to 2 hours. Trips out of town average approx. 2 to 4 hours. |
| Diners' Club Helper | Assist at Diners' Clubs. Help set up tables, serve food and clean up. | 2 hours monthly. |
| Volunteer Visitor | Visit with a lonely or isolated client to read, talk or go for a walk. | 1 hour weekly. |
| Telephone Reassurance Volunteer | Volunteers place telephone calls to reassurance clients each weekday at a prearranged time (8:45 am to 12:00 pm). Volunteers report back unanswered calls and any concerns. | 3 hours/month. Calls are made in the morning (approx. 8:45 am to 12:00 pm). Calls are made from the comfort of your home. |
| Exercise Instructor | Those with a passion for fitness are needed to lead hour-long gentle exercise classes. No experience necessary, all training provided by One Care | 1 hour/week. |
| CHAP Peer Educator | Volunteers are needed at CHAP sessions to measure. record client's blood pressure and provide education based on their cardiovascular risk profile. | 4 hours/month |
| Adult Day Program | Volunteers assist clients at programs. |   |
| Special Events & Fundraising | Volunteers are utilized to supervise promotional displays and assist with fundraising events. | Flexible – contribute during chosen events. Fundraising committee meets once/month. |