DAY RESPITE – When caregivers need a break for a few hours. ONE CARE can help to give you a break and spend time with your loved one.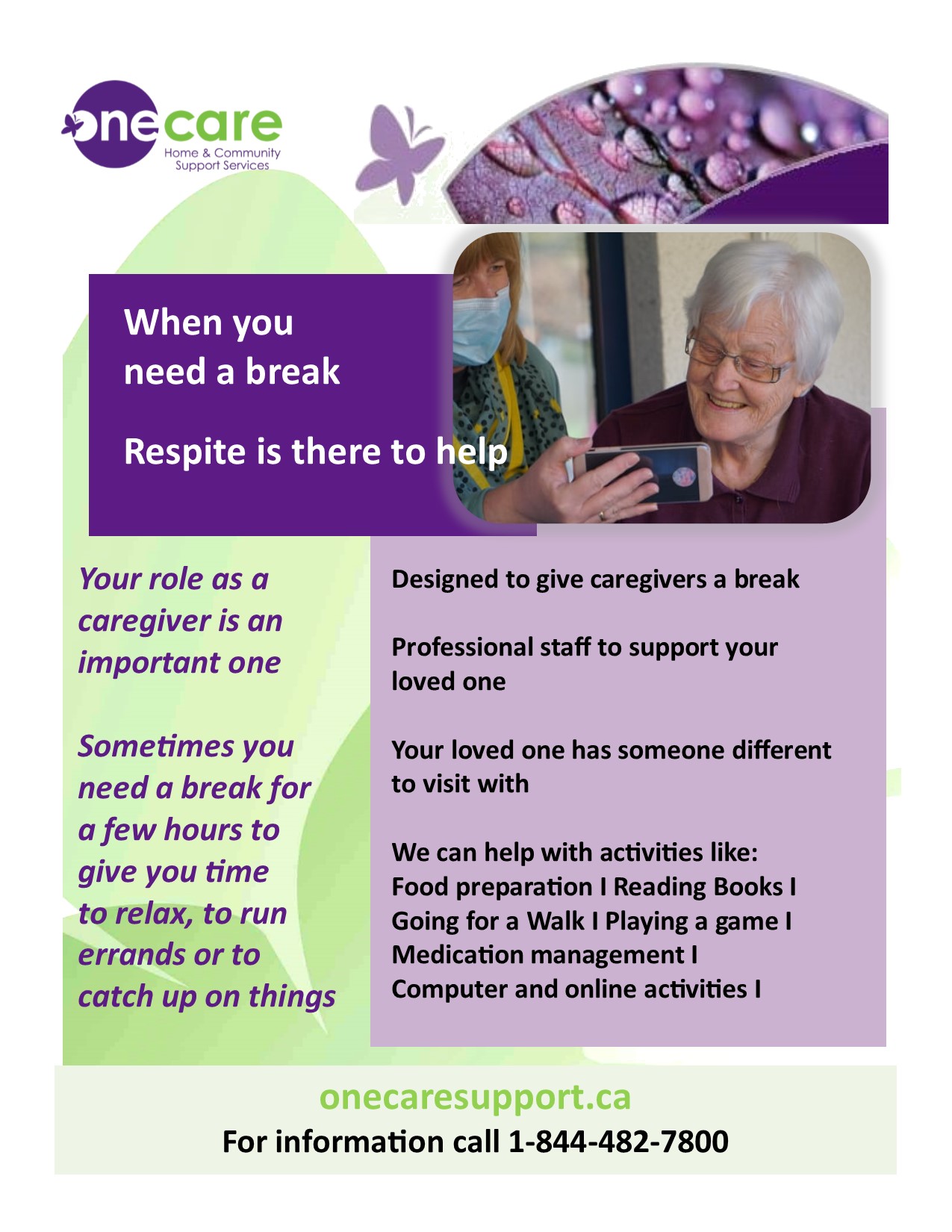 OVERNIGHT RESPITE – Caregiver relief is the primary goal of this program. Caring for someone with a dementia related disease such as Alzheimers can be a huge challenge particularly if that person exhibits behaviors such as wandering, pacing, repetitive actions or "sundowning".
This service is designed to give up to a 30 hour break to their caregiver. The client remains at the day centre overnight after the regular program day has ended and stays until 3 pm the next day.
The familiar surroundings and experienced staff help to reduce any anxiety the client may feel. Caregivers are secure in the knowledge that their loved one is being well looked after in a safe, comfortable environment with a very high staff to client ratio. There are always two staff present and a maximum of three clients in the overnight program.
For more information on costs and services:
Call ONE CARE Intake toll free at 1-844-482-7800 or ONE CARE at 1-877-502-8277
Transportation is available and can be arranged if needed. For more information, click here to see our newsletter!
Description
Availability
Registration
Eligibility
Cost
Description
Overnight respite is located at Goderich ADP and Wingham ADP
All activities and meals are provided during the respite stay.  Baths are offered to clients each day. Clients must bring a complete list of medications taken in a 24 hour period (including over the counter medications).  All medications must arrive in the original container.
The program is staffed 24 hours, with a Supervisor on call.
Clients can choose to attend 1 night vs 2 if beds are available. The Overnight Respite service consists of at least one full day in the ADP, the overnight stay plus the next full day in the ADP. The second night with second day in ADP is optional.
Availability
Office/Scheduling Hours – Monday to Friday from 8:30am to 4:30pm
Service days and availability vary by location.
Registration
To register for this program please call 1-844-482-7800.
An intake will be completed to determine the best services.
Eligibility
Available to older adults and adults with special needs in Huron/Perth County. Those suffering from dementia and exhibiting responsive behaviours are the most common clients.
Cost
Rates vary and subsidies may apply. Call 1-844-482-7800 for more details.
Clients are invoiced monthly.