ONE CARE Home & Community Support Services, incorporated on January 1, 2011, is governed by a Board of Directors. These are dedicated community members from across the region who donate their time to ensure that our mission, vision and values are upheld. Board meetings are held every other month. Meetings are open to the public.
For more information on our Board meetings please contact us by email at info@onecaresupport.ca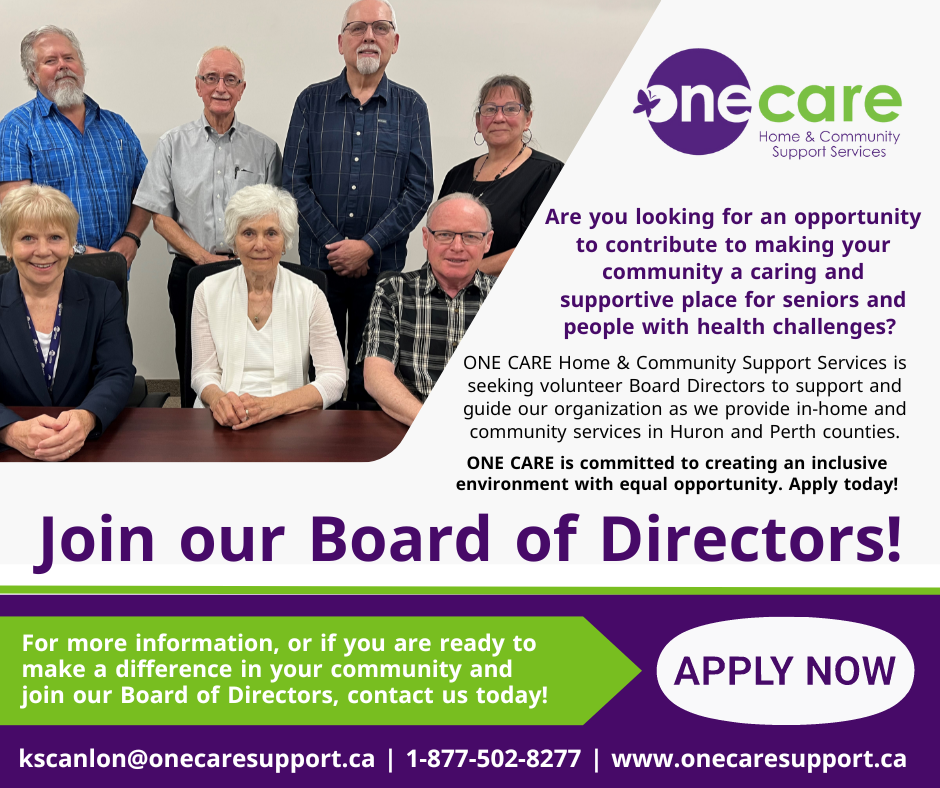 Meet the 2023-2024 Board of Directors

The Board performs the following roles:
Policy Formulation: 
To provide guidance to the Executive Director who is empowered to lead and manage operations. Decision-Making: To advance the strategic directions and goals of the LHIN consistent with Board policies.  Oversight: To monitor and assess organisational processes and outcomes.
The Board fulfills the following responsibilities:
Establishes Strategic Directions; Provides for Excellent Management; Ensures Program Quality and Effectiveness; Ensures Financial Viability; Ensures Board Effectiveness; Builds Relationships.
Board of Directors Recruitment: 
Board Director appointments are generally made in advance of the general meeting which typically occurs in June. Board Directors are selected from Huron and Perth Counties using a merit-based process, with all candidates assessed for the fit between skills and abilities of the prospective appointee and the needs of the agency. The appointment process is transparent and consistent, with clear and understandable guidelines applied consistently to all Board Director appointments. Board Directors are expected to possess relevant expertise, experience, leadership skills, and have an understanding of local health issues, needs and priorities. For more information please email info@onecaresupport.ca