Exercise, Wellness & Falls Prevention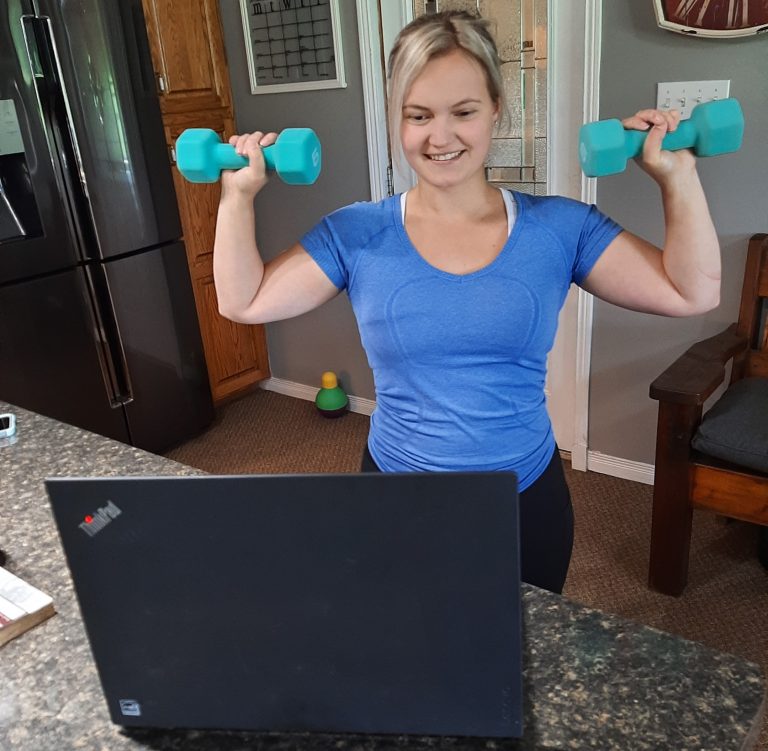 Exercise is important as we age in order to build and maintain functional abilities needed for daily life activities. When we improve our strength and balance, we reduce our risk of falls and improve our quality of life. Information and education provided at any of our physical activity exercise classes will empower you to adopt a more active and healthy lifestyle!
Keep moving with virtual classes!
Our priority continues to be the health and safety of our clients, volunteers, and staff. We are dililgently working towards increasing opportunities for social interaction and wellness programs for you to participate in virtually. 
We welcome you to join us online where we offer technical support to anyone who still may be unsure about this method of connecting. 
Our Health & Wellness Newsletter for winter 2023 is now available!
Our newsletter provides you with an overview of the programs you can look forward to, and when they are offered! It's important to stay active during the pandemic and our newsletter is just one of the resources we have available to keep you up to date and active. 
Active at Home: Here you will find videos to follow along with, as well as other useful information to motivate you to get up and moving. 
Below you will find three information sheets. Click on each title for more information.
Use this
Yoga Guide
to strengthen your body and mind to protect your wellbeing and independence.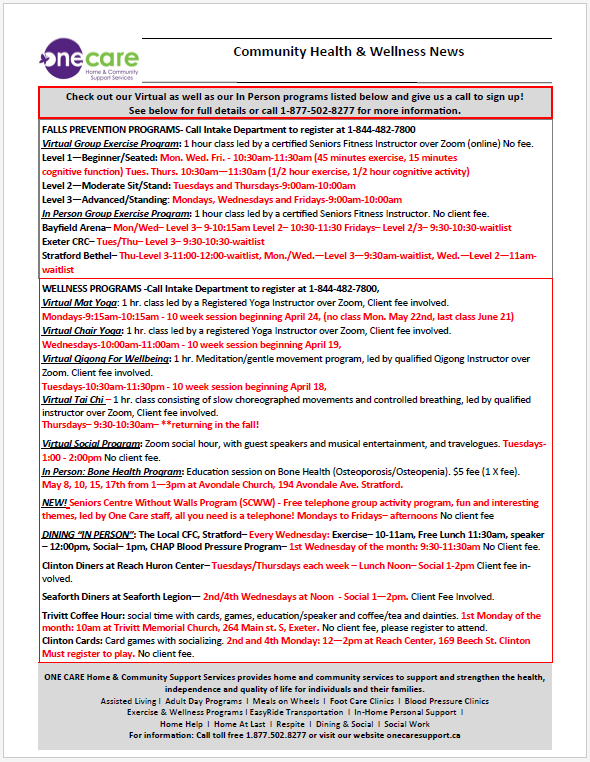 Volunteer Opportunity: Be an Exercise Instructor
Those with a passion for fitness are needed to lead hour-long exercise classes. No experience necessary, all training provided by ONE CARE. Time commitment is one hour per week.
Description
Registration
Eligibility
Cost
Description
Virtual Falls Prevention Exercise Classes: One hour fitness classes led by trained volunteers/fitness instructors. Each class consists of all components necessary to improve cardio, respiratory levels, muscular strength and balance. The goal of these classes is to build and maintain functional abilities needed for daily life activities.
Level 1 (Seated): Monday to Friday from 10:30AM – 11:30AM (virtually)
Level 2 (Seated & Standing): Tuesday & Thursday from 9:00AM – 10:00AM (virtually)
Level 3 (Standing): Monday, Wednesday & Friday from 9:00AM – 10:00AM (virtually)
*NEW* Seniors' Centre Without Walls: A free telephone-based program providing group activities for isolated, lonely, and vulnerable seniors. Through the use of group telephone calls, we provide a line-up of health-related information, participation in brain-stimulating activities, and most of all, space to create meaningful friendships and community to those who may feel isolated. 
Program Overview   |   Program Guide
*NEW* Starting October 2022 – Afternoon Classes Level 2 & 3 (Combination Class):  Monday & Thursday from 1:00PM – 2:00PM 
*NEW Coming Soon* Men's Health Exercise and Education Classes: Health promotion, disease prevention initiatives, and meaningful physical activities which cater to male preferences and interests. 
Yoga: Gentle yoga classes designed specifically for seniors. Focus is placed on proper breathing and gentle postures. Postures strengthen the body and promote flexibility and balance. Breath work calms the nervous system, reduces stress and improves the mind body connection. We offer Mat Yoga on Monday mornings, and Chair Yoga on Wedneday mornings. 
Qigong for Wellbeing: Qigong is a meditation and healing practice that has been part of traditional Chinese medicine for centuries. Benefits of Qigong include lowered stress and anxiety, increased focus, and improved balance and flexibility. Offered on Tuesday mornings.
*NEW Coming Soon* Tai Chi: Tai Chi is a Chinese martial art which has been practiced for generations. Designed for seniors, the movements are slow, with footwork choreographed by a leader. You will learn to breathe correctly, focusing on intake and releasing of air while moving. 
Nordic Poling: This aerobic exercise is as effective as cross-country skiing, yet as easy and convenient as walking.  Nordic Poling is a full body, cardio-muscular exercise engaging the arms, back, stomach and legs.  It involves walking with two specially designed fitness walking poles.  By using your entire body, Nordic Walkers work smarter, not harder, towards a healthier lifestyle.  Nordic Poling is easy to learn and is suitable for seniors of all fitness levels!
Other programs include fitness centre, hiking, education sessions and CHAP Blood Pressure Clinics.
Exercise programs, education sessions and CHAP Blood Pressure clinics are offered throughout Stratford and Huron County.
Registration
To register for this program please call 1-844-482-7800 or register in person at one of the classes.
Eligibility
Available to older adults and adults with special needs in Huron/Perth County.
Cost