GET INVOLVED with one of the various fundraising campaigns
and events we run throughout the year! 
June is Seniors' Month! Businesses throughout Huron and Perth are supporting seniors in our communities by donating a portion of their proceeds to ONE CARE. 
CLICK HERE for the full list of businesses who are supporting ONE CARE this June! 
To get involved for 2022, email fundraising@onecaresupport.ca  

This year we also have 4 participating Golf Courses across Huron & Perth! Golf at one of these locations to support One Care! CLICK HERE for more information, to see our sponsors for June 2022, and to see a video of our golfers from 2021!
We surpassed our $30,000 fundraising goal thanks to the support of our generous community! This event is our largest fundraiser, and is an opportunity for people to get out with their friends and loved ones while raising money for ONE CARE. This family-friendly event is fun for individuals or all ages and accessibility levels. This year, participants had the freedom to do any activity, where they wanted, the distance they wanted, anytime between September 1st and September 18th! Check out our Grand Parade 2021 video which features our incredible teams and sponsors. See you next year!
Contact fundraising@onecaresupport.ca with any questions about fundraising!
November 2021 - January 2022
The holiday season is a time to remember and celebrate the many gifts in our lives, and a time to consider ways to give to those in need in our community. At ONE CARE, this means giving the Gift of Care. In 2021 we had a very successful campaign thanks to the generosity of our community, and we distributed over 90 blankets to clients in Huron and Perth.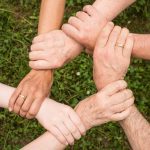 The net proceeds from all gifts and fundraising events for ONE CARE go directly towards clients in need of financial subsidy, and the purchase and maintenance of essential program equipment and facilities.