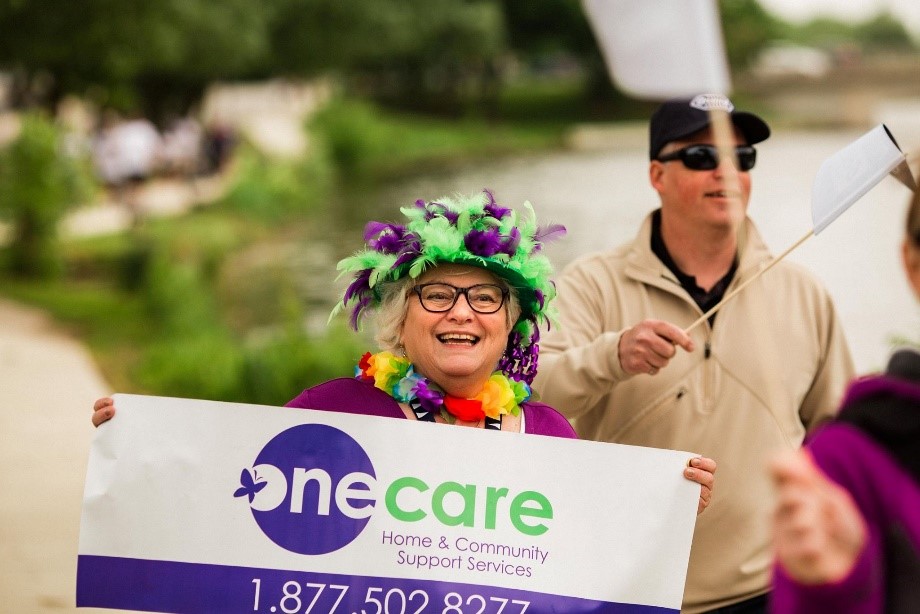 ONE CARE Home & Community Support Services is encouraging the community to get moving in support of their annual fundraiser – The Grand Parade. This is a special year as ONE CARE celebrates 10 years since forming in 2011, and they are calling on the community to help make this year's event the best one yet.
This family-friendly team event is fun for individuals of all ages and accessibility levels. Similar to last year, participants have the freedom to do any activity, where they want, the distance they want, any time between September 1st and September 18th. For those unable to participate, sponsorship and donation opportunities are also available. To register a team and start fundraising, visit: https://thegrandparade.org/location/stratford.
"This fundraising event is a lot of fun for the entire family, and the modifications we have made make it easier than ever to participate," says Kathy Scanlon, Executive Director, ONE CARE. "It has been an extraordinary and challenging time for everyone, and a time when the work we are doing is imperative to the wellbeing of seniors living in Huron and Perth counties. Whether you are a sponsor, are fundraising with your team, or have made a donation, you are making a difference in the lives of seniors living in our communities."
Funds raised through The Grand Parade will go directly towards a senior or older adult with health challenges in need of subsidized fees, as well as the purchase of essential equipment such as our accessible vehicles. ONE CARE is working hard to ensure cost is not a barrier to receiving the programs and services that clients rely on. Many of these programs and services require specific equipment, and funding does not cover the cost of these essential items.
For the second year in a row, Tuckersmith Communications Co-operative Ltd. is one of the generous lead sponsors of the Grand Parade. ONE CARE is also excited to welcome Compass Minerals and Foxton Fuels this year as lead sponsors.
"I value the relationship we have with ONE CARE, and have developed a heartfelt gratitude for their programs," says Mark Foxton, Foxton Fuels in Wingham. "My father attended Coffee Club on Wednesdays in Wingham. It was a program he really enjoyed and it was a blessing for him and my family. ONE CARE does great work, and I am grateful for the opportunity to support them through this fundraiser in memory of my father."
Supporting seniors in your community has never been easier or more fun – enjoy an activity with your team, skip rope with your kids or grandkids, or play basketball in your driveway. Participants are encouraged to snap photos of their team costumes and take videos of their activities so that they can be included in ONE CARE's parade video.
ONE CARE Home & Community Support Services
ONE CARE is a community based, charitable, not-for-profit health organization local to Huron and Perth counties. ONE CARE offers a wide range of essential services to improve quality of life for seniors and older adults with health challenges, as well as caregiver relief. Programs include: Adult Day Programs, Assessments and Care Planning, Assisted Living, Day/Overnight Respite, Dining/Social Programs, Friendly Visiting, Foot Care, Grocery Delivery, Home at Last, Home Help, In-Home Personal Support, Lifeline – Emergency Response, Meals on Wheels, Social Work, Telephone Reassurance, Transportation, and Wellness and Exercise. Due to the ongoing pandemic, some programs may be temporarily modified. For the most up-to-date information visit www.onecaresupport.ca or call 1-877-502-8277.