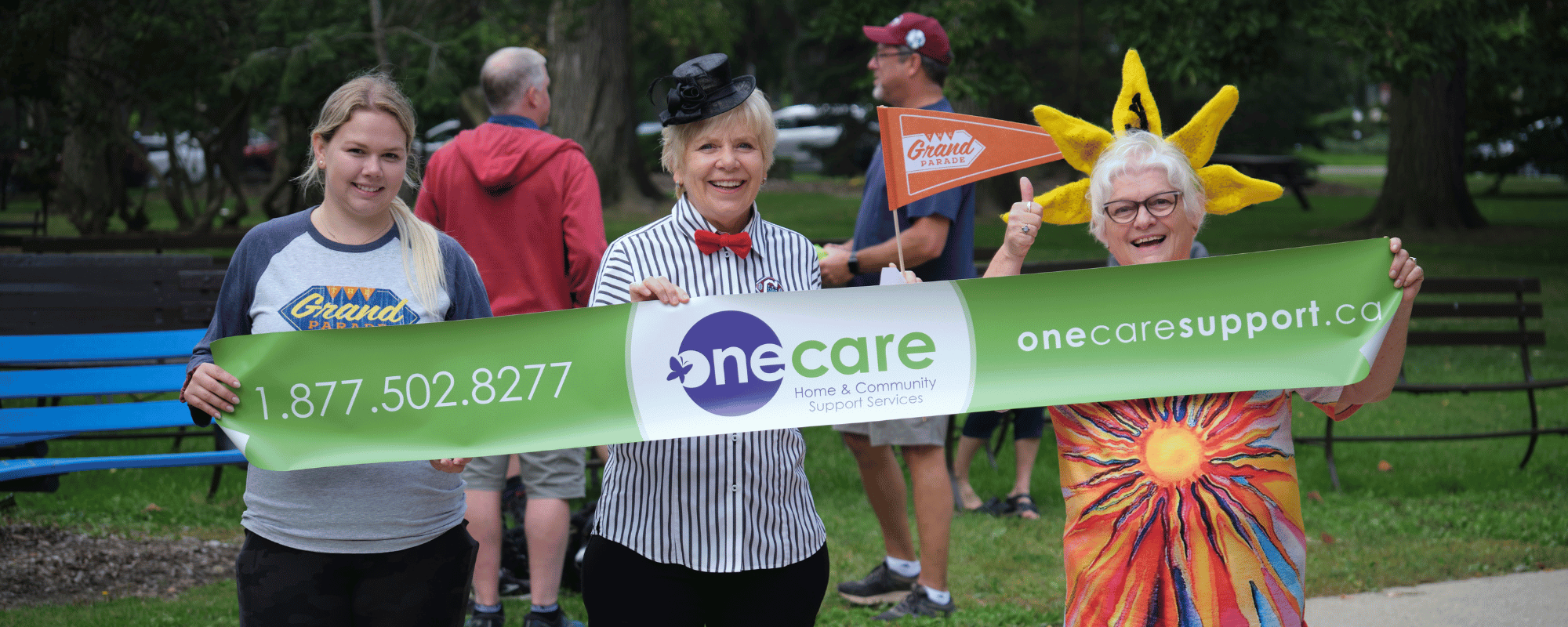 ONE CARE Home & Community Support Services is encouraging the community to walk together in support of their annual walkathon – The Grand Parade. This family-friendly team event is fun for individuals of all ages and accessibility levels. It is a great way to connect with family and friends, and support those in need of ONE CARE's services.
Participants have the option to have some fun and join ONE CARE for an exciting in-person event taking place in Stratford on Saturday, September 16th or they can do any activity they want, where they want, the distance they want. Doing an activity is one way to participate, but there are many ways to support this event. You can register a team and start fundraising, become a sponsor, or make a donation by visiting the ONE CARE website at www.onecaresupport.ca, or www.thegrandparade.org/location/stratford.
"We are the way that our community can support seniors and adults with health challenges and help them to be in their home and part of their community, where they want to be," says Kathy Scanlon, Executive Director of ONE CARE. "Increasing costs are a challenge for everyone these days but some are hit harder and need the community to help."
The Grand Parade is taking place on Saturday, September 16th at the pavilion in Upper Queen's Park in Stratford starting at 10:00 AM. Local radio host from 107.1 CJCS FM, Jamie Cottle, will be on site to emcee the event again this year, and local food sponsors will be generously donating food and beverages for all participants before and after the walk.
Compass Minerals, Foxton Fuels, and Tuckersmith Communications have generously come on board again this year as lead sponsors of The Grand Parade.
Funds raised through The Grand Parade will go directly towards a senior or person with health challenges in need of subsidized fees, as well as client related equipment and facilities, such as the purchase of accessible vans. ONE CARE has no regular source of funding for accessible vans and they are critical to ensuring people are able to get to the services they need. ONE CARE is also working very hard to ensure cost is not a barrier to receiving the programs and services that clients rely on. Many require fees, and especially in these times people need help with the cost of services like Meals on Wheels and Transportation. Many people in our community are elderly, alone and isolated, and trying to deal with the cost of living while also receiving the services they need. With help from the community, ONE CARE can support them.
"We are a proud supporter of community events, including ONE CARE's Grand Parade," says Erin Peet, Co-owner of MicroAge Basics in Goderich. "We hope that this event, and others produced by ONE CARE are a huge success and that many members of our communities benefit from these programs."
"The services that ONE CARE provides in assisting our senior population and those that are unable to handle normal day to day activities are so essential," says John Cossey, Owner of New Orleans Pizza in Stratford. "ONE CARE plays a significant role in keeping our community the caring and supportive environment that we have been blessed to live in."
Supporting seniors in your community has never been easier or more fun. Register your team, start fundraising and join ONE CARE on Saturday, September 16th at the pavilion in Upper Queens Park in Stratford.