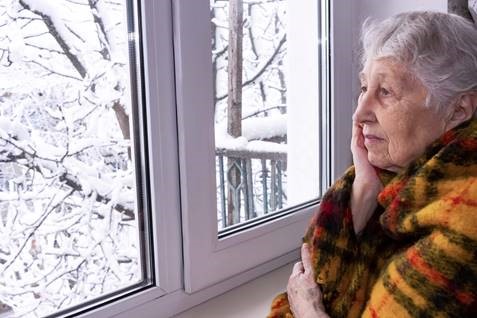 Winter is a difficult time for seniors and the challenges of loneliness and isolation are even greater with the added stress of COVID-19. At ONE CARE Home & Community Support Services, the work of this local not-for-profit organization is to provide essential services that support over 8,000 vulnerable seniors and their caregivers in Huron and Perth Counties.
"The people we support are struggling with isolation, being alone and ongoing health issues. They have fears and worries about the pandemic and they need us more than ever," says ONE CARE Executive Director, Kathy Scanlon.
ONE CARE has provided services through the pandemic and has seen increases in programs, like Meals on Wheels and Grocery Delivery. Programs like Home Care, Meals on Wheels, and Easyride Transportation are being provided with increased infection control procedures. Other services have moved to virtual platforms, or are operating with smaller client groups, like the Exercise and Wellness programs and Adult Day Programs.
"Our clients are experiencing significant isolation and deterioration in their health and wellbeing, and their caregivers are overstretched and feeling overwhelmed. We are continually working to make modifications so that we can continue to support our most vulnerable seniors," Mrs. Scanlon noted.
ONE CARE hears regularly about the importance of the services, as one client noted, "What an incredible service. ONE CARE has made a difference in many vulnerable, frail seniors' lives. This is just incredible especially through the pandemic."
Mrs. Scanlon adds, "Our staff and volunteers are helping to keep people connected and cared for. The delivery of a hot meal to their home, a ride to a medical appointment, a telephone call, or providing personal care has a significant impact on the people we support."
Mrs. Scanlon added that ONE CARE is working with partners in the Huron Perth Ontario Health Team to develop new programs and approaches to support people across the health care system.
"In working closely with our health care partners, we are developing new programs and discovering the best ways to understand and respond to the comprehensive needs of our community."
The pandemic has resulted in additional costs for ONE CARE, in terms of necessary equipment or supplies and increased financial support to clients. ONE CARE has received both financial and material donations from service clubs, churches, and community members. The support has helped to continue providing services and financial support for clients who cannot afford services, the purchase of personal protective equipment and equipment like vans.
Throughout the winter months ONE CARE is promoting the Gift of Care donation program in which individuals can make financial donations to support clients in need.
"The need for support and care continues as people continue to struggle from the impact of COVID-19," Mrs. Scanlon noted. "The community support we have received has made a tremendous difference and impacted the lives of many seniors and we are grateful for the dedication to ONE CARE."
For more information on services offered by ONE CARE or the Gift of Care donation campaign please visit www.onecaresuppport.ca or call 1-877-502-8277.